Recipe by:zainab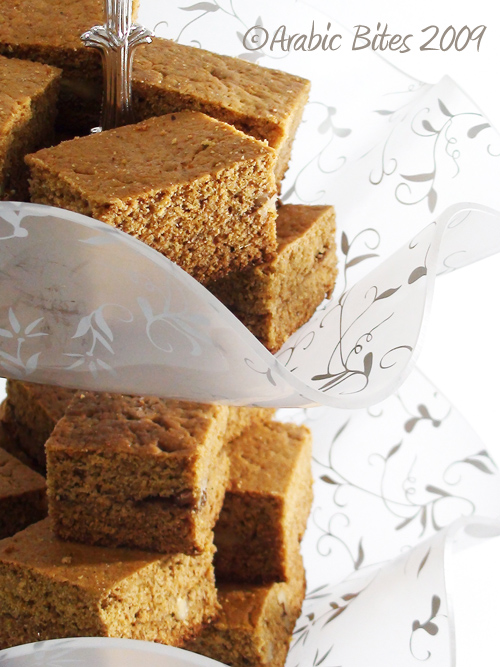 7cups all-purpose flour (you can use 3 1\2 cups whole wheat flour +3 1\2 cups all-purpose flour).
1 cup oil.
1 cup low fat milk or soy milk.
2 Tablespoons baking powder.
2 Tablespoons ground cardamom.
1\2 Tablespoon baking soda.
2 cups Date molasses.
*Walnuts Filling:
1cup chopped walnuts.
1\4 cup raw sugar.
4 Tablespoons rosewater.
Pinch of ground cardamom.
Pinch Saffron.
* Mix all filling ingredients and keep a side.

1)Mix Date molasses with milk and than mix it with oil.

2)Combine flour with cardamom, baking powder, and baking soda in large mixing bowl.
3) Mix step 1 and step 2 together and now you have the dough.

4) Divide the dough into 2 equal portions (use water or oil when you divide the dough)
5) Flatten dough into 22cm x 30cm pan, fill with walnuts filling, then but the second portion and flatten.


6) Bake at 350F for 30-33 minutes or until done.
7) Keep it in the pan and cool it for 2-3 hours.
8) Cut and serve with cardamom & saffron milk or cardamom tea or Arabic Gulf Coffee.

I am sending this to BBD#22 (sweet bread) event started by Zorra , & hosted this month by Stefanie.

Enjoy